TREEHOUSE SCREW – GTS SIDE
Take a walk on the wild side
The GTS Side is a practical solution for attaching side cantilever beams with head ties to the tree. Typical applications are stairs, wooden decks and small platforms with low to normal loads.
| | | |
| --- | --- | --- |
| ✓ Made in Germany | ✓ 50 Years Warranty | ✓ 30 Days Return |
Simple Assembly
Attach beam to side
The GTS Side is versatile, easy to assemble and can also be used in inclined trees. It is pre-drilled with the same 36 mm Auger-Bit as the other GTS Screws and screwed in with the handle of the 1″-Ratchet.
Here you can find the assembly video of the GTS Side.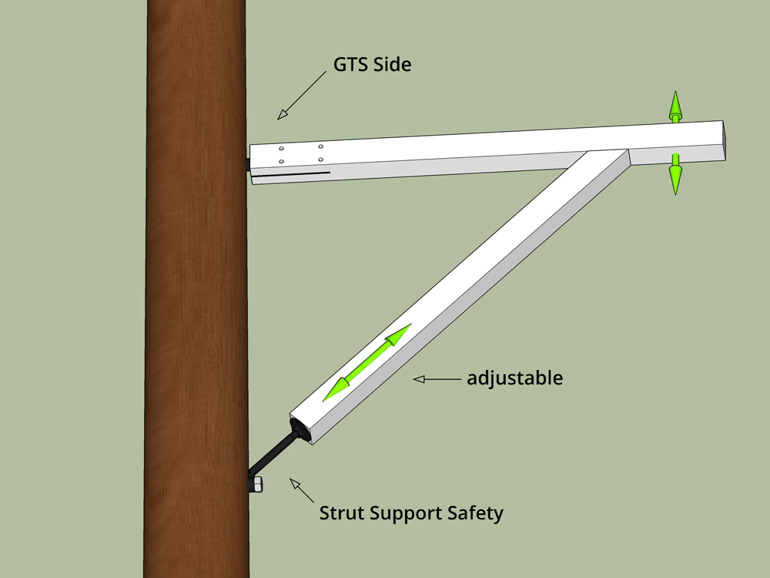 Beam + Kneebrace
Wood Kneebrace
The GTS Side and the wooden beam attached to it always need a support strut (kneebrace) with which they form a rigid triangle. The larger the lever arm and the load, the larger this triangle must be. Especially with soft wood, the GTS Side must not be loaded too much laterally.
Firm Support
The other Side
With high one-sided loads, the triangle tends to tilt and the GTS Side is subjected to strong tensile stress due to the lever forces. To prevent the GTS Side from being pulled out, a counter-screw should always be fitted to prevent tipping under high loads.
Product Details
Tree Thread ø40: Specially developed coarse thread for the tree guarantees high pull-out resistance (500 – 1000 kg).
Seal +: Thickening from thread undercut to shank seals the drill hole. 
Plate 6: 6 mm thick plate for fixing wooden beams. The slot can be perfectly sawed out with an ordinary chainsaw.
Black KTL Coating: The environmentally friendly coating process ensures optimum corrosion protection and excellent sliding properties. Due to the black appearance, the screw disappears inconspicuously in the tree.
Technical Data
Certified DIN quality steel
Special steel alloy (shaft not weldable)
Dimensions:

ltotal = 390 mm (15,35 in)
lthread = 100 mm (3,94 in)

Blechmaße: 250 × 90 × 6,0 mm (9,8 x 3,54 x 0,24 in)
Löcher Blech:

4 x ø 13,0 mm (Schlossschrauben)
1 x ø 30,0 mm (ø 1,18 in) (Montage mit Stahlrohr)

Weight: 2455 g
Article-No.: TTS1006
HS-Code (Customs): 73181542
Assembly
Pre-drill (Auger ø 36 mm)
Screw in with sturdy steel tube for hole ø < 30 mm (< 1,18 in, e.g. handle of Ratchet 1"); or slotted steel / wood 8 mm slot for sheet metal; if necessary with pliers.
The support beam is slotted and secured upright with 4 x ø 12 mm (ø 0,47 in) carriage bolts and washers!
Installation Instruction
PDF Download
Installation Video
YouTube Tutorial
Shipping Service
Delivery times, prices, returns
Hardware Info
Please Read
6 Treehouse Screws
Find the right Screw
The GTS Side is typically used for stairways, stairs and landings. It is often also a clever solution when the support beam cannot be sensibly fastened with other accessories. You can find all information about our components in our product guide!
Frequently Asked Questions
How do I mount the GTS Side in the tree?
Pre-drill hole in tree (Auger-Bit).
Screw in screw (handle of large Ratchet or steel pipe).
Fasten wooden beam (with carriage bolts).
The tools are available in our online shop. You can find detailed assembly videos on our YouTube channel.
How to attach the wooden beam to the GTS Side?
The beam is fixed with 4 x carriage bolts ø 12 mm galvanised + washers.
The wooden beam must cover the entire sheet of the GTS Side. First drill a hole in the end grain of the beam with the Auger-Bit 36 mm and widen it a little so that the bulge at the beginning of the sheet can be countersunk.
Saw the slot for the sheet metal to a width of 7-8 mm with a chain saw, hand circular saw or hand saw.
Which wooden beam do I use?
Your wooden beam should be at least 9 × 9 cm. For higher loads, 10 × 10 or 10 × 14 cm are more suitable.
Use wood for outdoor use (larch, Douglas fir, …) and make sure that the beam has no branch holes, cracks or other defects when it is connected to the GTS Side!