Our goal is to produce the most innovative and safest treehouse fasteners in the world!
We are proud of our regional production and the family-like cooperation with our manufacturers and suppliers – all our products are 100% Made in Germany / Upper Bavaria! This means: state-of-the-art machine technology, high precision, strict quality controls, fair working conditions and short delivery routes.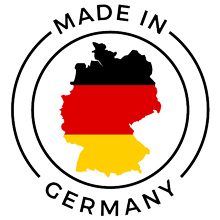 YouTube video: How our products are made – behind the scenes at TheTreehouse.Shop
2. Quality = Safety
When building a treehouse, we want maximum safety and reliability for the structural components. To guarantee the high quality level, we only work with regional manufacturers.  Our master locksmiths and metalworkers have decades of know-how and hold international certificates and documents.
Our common goal is to produce the safest treehouse attachment products!
We will continue to optimise our technology and are constantly working on innovative solutions for treehouse construction.
3. The KTL Coating – that's why our parts are black
To prevent steel from rusting and protect it from corrosion, it must be coated. We have opted for a sustainable finishing method – the "cathodic dip painting", or "KTL Coating" for short:
In this process, the steel parts are placed in a dip tank for a certain period of time. The dip tank contains a solution of water and black lacquer. The special feature of the technique is that the lacquer is not applied by machine but by means of a high voltage; the dip tank is the anode, the steel parts are connected to the cathode and immersed. In this way, the paint is not only applied superficially (cf. powder coating), but "fuses" with the outermost steel layer. The process is environmentally friendly, health-friendly and efficient, as hardly any toxic vapours (cf. galvanising) or waste products are produced. In addition to increased abrasion resistance, the KTL-coated parts also have excellent sliding properties. The noble black appearance makes the parts disappear inconspicuously and harmoniously in the tree.
The parts are coated by the Lebenshilfe Werkstätten München, whose customer base includes BMW, MAN, Fendt and other well-known manufacturers. The LHWM works with disabled people, helping them in their everyday work and thus enabling them to lead a regular life. We are proud to be a partner of LHWM!
4. Research and development
The basis of our company is the decades of experience and the close practical reference by the company baumbaron GmbH, a worldwide treehouse specialists.
In addition, there are six topic-related bachelor's, master's and diploma theses in cooperation with the Universities of Applied Sciences in Munich, Rosenheim, the UNI Aachen and the HNE Eberswalde, Uni Vienna and Stuttgart. We have combined all this know-how on our website: from worldwide research and personal interviews with the most experienced tree house builders, to computer-controlled FEM analysis, to practical test series.
Photos of field tests, laboratory tests and bachelor theses
"At this point, a big THANK YOU once again to the universities, the professors and our students Tim Hellfritsch, Onja Hardorp, Ruth Orschler, Steffen Beck and Bernhard Dallhammer! A thousand thanks also to my dear team at TheTreehouse.Shop, thank you for the harmonious cooperation, the professional input and the shared dreams – without you we wouldn't be where we are now!"
Vitus Wahlländer – Founder of TheTreehouse.Shop