Do nails, screws and other steel parts damage the tree?
You want to attach something to a tree: a small sign, a bird house, a sunshade, a swing beam or, in our case, an entire treehouse. Then you are quickly confronted with the statement:
"Screws damage the tree! All it takes is one copper nail and the whole tree dies!" – Is this true?
Many people are understandably reluctant to drive a piece of steel into a living tree. But is a small hole really a threat to the whole tree? How will the tree tolerate the foreign body of steel? Are compression belts or clamping methods a better alternative?
Here we look at these concerns in more detail (with a focus on treehouse construction, tree & aerial forest adventure parks):
1. Concern: steel is not compatible with the tree?
There are probably few places where you can observe the interplay of steel and living trees better than at the Out'n'About Treehouse Resort with its 15 treehouses, huge aerial forest adventure park, suspension bridges, ziplines and a total of over 50 tree platforms.
For more than 25 years, the most diverse methods of fastening to the tree have been tried out here: small nails, large bolts, steel straps, steel beams, clamped wooden beams, … some examples can be seen here:
The results are surprising: the combination of steel and wood harmonises perfectly!
Even the first experiments, in which huge steel beams with rusty bolts were screwed directly to the trees, show that the tree does not reject the steel, but grows around it and integrates it completely into its life. There is also no scientific evidence that steel, stainless steel, copper or other alloys can harm the tree or "poison" it through detachment (e.g. rust).
2. Concern: nail, screw and bolt will damage the tree?
Example: Tree grows around a large Treehouse Bolt
Whether a small nail hole or a hole drilled for a Tree house Bolt, trees know how to deal with this kind of injury very well – it resembles a branch break:
With a drill hole, some water and nutrient lines are cut. The tree senses this and immediately begins to heal the wound by selectively storing resins and oils to seal the wound. In the following years, it forms extra strong reaction wood at this point. A fully grown, healthy tree can easily cope with such situations thanks to its large energy reserves.
3. Concern: the tree will suffer in the long term from the treehouse?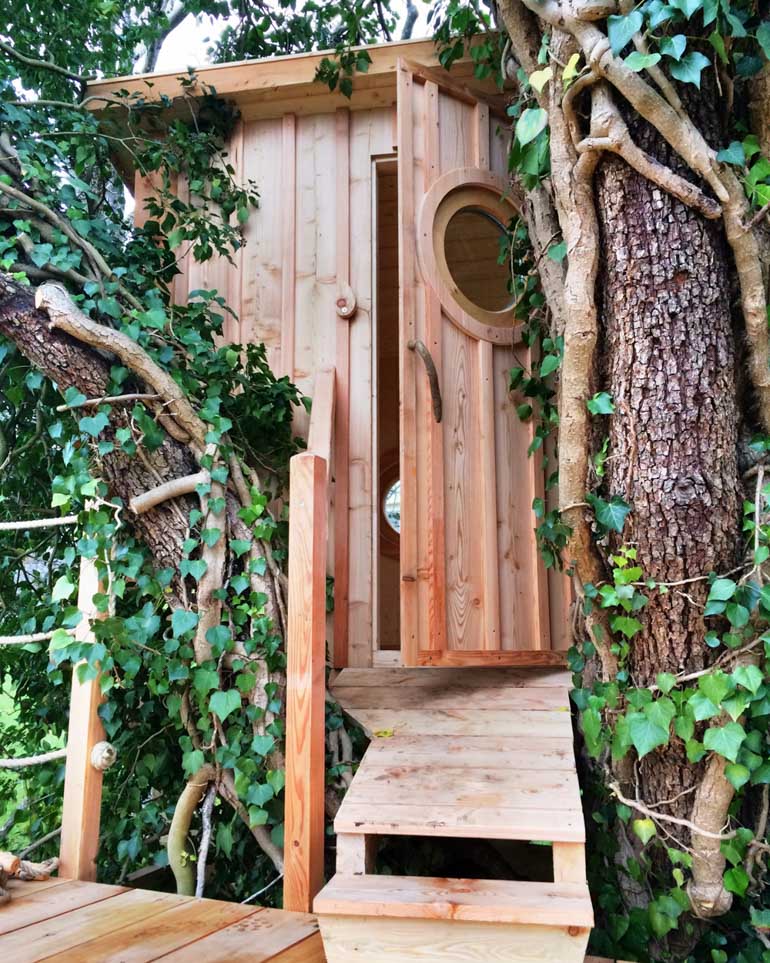 This worry is lost when one knows how adaptable and resistant mature trees (ø > 30 cm) are. If a tree has survived the difficult years of growth, this already proves its incredible survival power.
In the course of their lives, trees are repeatedly confronted with injuries and problems, including natural influences such as:
Forest fires, droughts, permafrost, floods, avalanches, lightning, branch breakage during storms and snow, loss of leaves due to hail, fungal and insect infestation, …
But also damage caused by humans:
Car accidents, root damage during earthworks, cut-off of water supply due to new buildings, soil compaction and thus lack of oxygen supply for the roots, damage due to neighbouring felling work, …
A vital tree can cope well with such extreme situations, as it has large energy reserves (carbohydrates & fats) when fully grown. Its entire structure is designed for many times the daily load. It is not for nothing that trees are among the oldest living creatures on earth!
Trees are true survival masters and adapt quickly to new situations: Treehouses are a perfect example of this!
A survey of 18 professional treehouse builders (including Pete Nelson USA, Alain Laurens FR, Andreas Wenning DE, …) showed that out of 2253 treehouses built, only two trees died as a direct result of construction – that's far less than 1 per thousand (source: bachelor thesis by Onja Johannes Hardorp, 2017, HNE Eberswalde).
Treehouse professional Johannes Schelle also raves about his treehouse, which he screwed to a beech and a lime tree 13 years ago: "The trees have a magnificent crown and blossom every year two weeks longer than all the other trees in the garden."
The prerequisite for a long-lasting treehouse is, of course, the right fastening method and a suitable tree.
4. Concern: why use screws at all, wouldn't "injury-free" clamps be better?
Since no direct intervention is necessary, the so-called "injury-free" fastenings (clamping technique with wooden beams, compression belts, cuffs, ropes) seem more harmless at first glance. But this is deceptive, because especially in the long term these methods can severely damage the tree!
Trees grow in width (thickness growth, annual rings)!
Since a tree increases in diameter by 2–15 mm (0,08-0,6 in) per year, clamping techniques sooner or later lead to constriction and bruising. The nutrient-conducting tissue under the bark is squeezed, the sap flow stops and, in the worst case, dangerous predetermined breaking points develop. Especially in tree adventure parks (also "tree top adventure" or "aerial forest adventure"), there is a lot of consequential damage to trees due to clamped pedestals that "chafe" and bruise the tree because they are not adapted to the thickness growth.
In the short term (< 1 year), a clamping or wrapping attachment to the tree is unproblematic with normal use, e.g. with a swing attachment, a sun sail, a hammock, a slackline or an art installation.
In the long term (> 3 years) and especially with permanent large installations such as treehouses, no clamping and compressing fastenings should be mounted to the tree!
5. Conclusion – Green Light for Tree Screws
Nails, screws and other steel objects do not harm a healthy tree, it simply grows around them. Objects such as signs, fence posts and barbed wire are also grown around by the tree and are firmly integrated into its living situation – such examples can be seen everywhere along the wayside. Of course, there are tree species that are better able to cope with injuries than others.
If you want to anchor something heavy permanently in the tree, you should not use clamping or wrapping, but better use another fastening method.
Professional Tree Screws (aka. Treehouse Bolts) have established themselves worldwide as a safe and durable solution here. They can carry enormous loads, but keep the supporting beams at a distance and allow the tree to grow its natural thickness.
This makes them ideal not only for treehouse construction but also for permanent installations in tree adventure parks, aerial forest parks and tree top walks.