Treehouse Building – Permit, Plans & Design
We teach you the art of building a treehouse – after all, we don't want to build just any treehouse, but your own personal dream house! A professional shows you step by step how to get from the first idea to the rough sketches to the perfect treehouse plan – accompanied by valuable tips and insider knowledge!
Learn step-by-step how professionals plan a treehouse: Our targeted questions and tips will help you focus on the essentials!
Basics of tree (house) statics: Learn about the loads acting on your treehouse and the trees. Calculate the weight of your treehouse using a rule of thumb. Find out how big and how heavy your house can be.
Do I need a building permit? What are the local rules and regulations? Do I need to register my treehouse project with the authorities or can I just build on it? We share our experience!
This article helps you to better estimate the cost of your tree house project. What does a self-built DIY treehouse cost and what price does a professional like Pete Nelson charge? Where can I save money?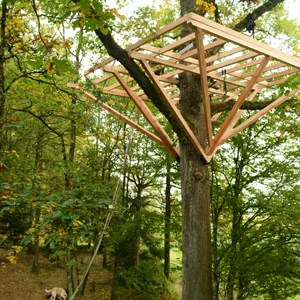 We get to the bottom of the fairy tale about whether steel screws and copper nails are harmful to a living tree. Spoiler – not really, as always it depends on the quantity.