Treehouse Design and Building
In the following chapters we will teach you the art of building a treehouse – after all, we don't want to build just any tree house, but your personal dream treehouse!
The better the planning and the more concrete the visualization, the more joy you will have with your treehouse later!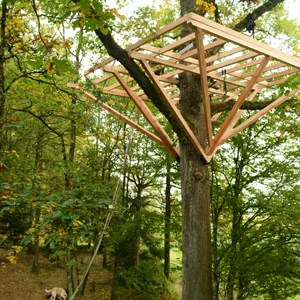 Learn from a professional how to plan your treehouse: from the first sketches to the final platform design!
Basics of tree (house) statics: Learn about the loads acting on your treehouse and the trees. Calculate the weight of your treehouse using a rule of thumb. Learn how big and how heavy your house can be without overloading the attachments and the tree.
Do I need a building permit? What are the local rules and regulations? Do I need to register my treehouse project with the authorities or can I just build on it? We share our experience!